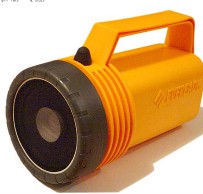 At first glance this might look like a standard torch, but it's actually an iPod mini boom box. All that remains of the EverReady torch is the casing. The bulb has been replaced by a speaker and the iPod is controlled by remote (Airclick). The iPod, amp and Airclick are all carried inside the device. The owner even included very brief assembly instructions.
I wonder what sort of sound comes out of such a thing. Shouldn't expect too much from 9v, yet the idea is brill. I would love to try to build myself something similar using my old 5GB iPod. Might give it a new lease of life.
Hmm… if this is developed any further, we might see it going mainstream. "Your perfect solution, to those dark silent nights". Might actually catch on.